Recently Google has announced that Workspaces will be paid if you want to be able to use the email function of workspaces. So I was looking for some free alternatives and stumbled upon Zoho Mail. I will show you step-by-step how to set up Zoho Mail with your own domain.
Psst! Need a new domain? Try Namecheap
Side Note: a while back I wrote about how to Use Gmail with your own domain for free. That method was utilising Mailgun and creating a free @gmail.com email and it is a bit more technical than some would want

Zoho Mail is part of Zoho Workplace suite and while there are paid plans for standalone email and Workplace, there is also a "Forever Free Plan" for email service only
Here is a brief comparisons of the plans, more details here.
Forever Free

Mail Lite
A$1.65 /A$2.20
Mail Premium
A$6.05
Workplace Standard
A$4.40
Workplace Professional
A$9.35
Email Hosting
1 domain
Unlimiited Domains
Unlimiited Domains
Unlimiited Domains
Unlimiited Domains
Mail Storage Per User
5GB
5GB/10GB
30GB
30GB
100GB
Attachment limit (Mail)
25MB
30MB
40MB
30MB
40MB
Huge Attachment Limit (Mail)
up to 250 MB
up to 1 GB
up to 500 MB
up to 1 GB
Zoho Calendar
V
V
V
V
V
Zoho WorkDrive
X
X
X
V
V
Zoho Office Suite (Writer, Sheet, Show)
X
X
X
V
V
Zoho Click
V
V
V
V
V
Zoho Meeting
X
X
X
Up to 10 participants
Up to 100 participants
Zoho Connect
X
X
X
X
V
Zoho Mail Plans Comparison – Prices in AUD per User per Month when billed annually
Creating Zoho account
Browse to Zoho Mail Pricing page and choose the applicable plan.

If you are interested in the free one, then scroll down and select the "Forever Free Plan"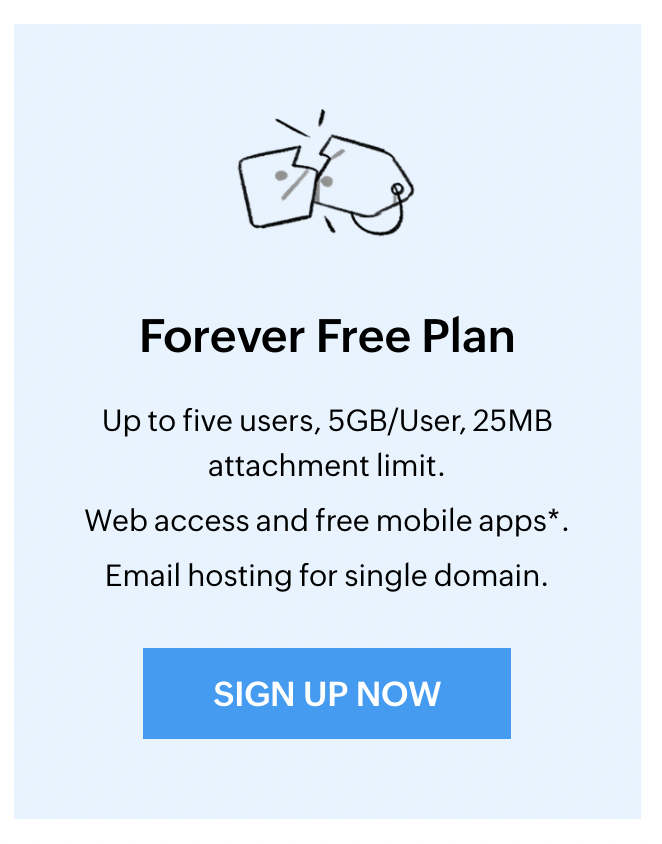 Fill in your details on the following page to create a Zoho account.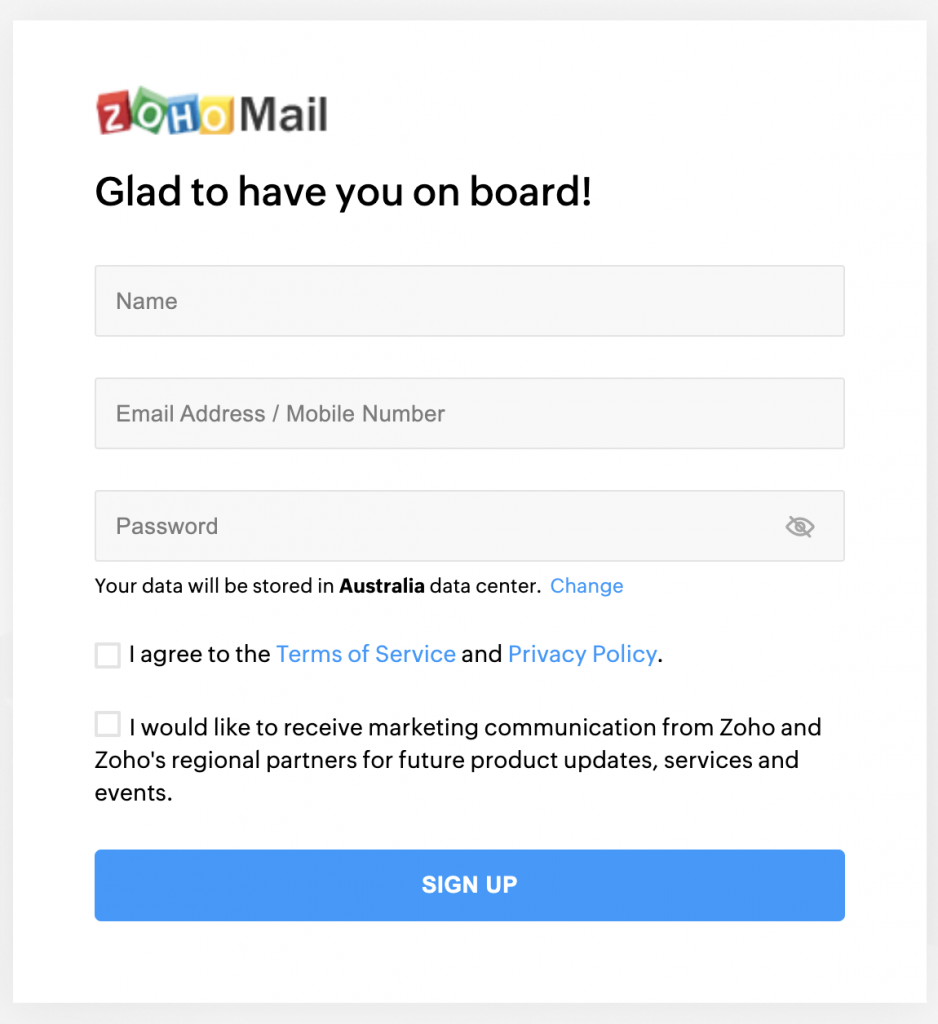 After the signup process is complete you can continue with setting up Zoho Mail account
Setting up Zoho Mail
Navigate to Zoho Mail Admin Console,
Create an Organization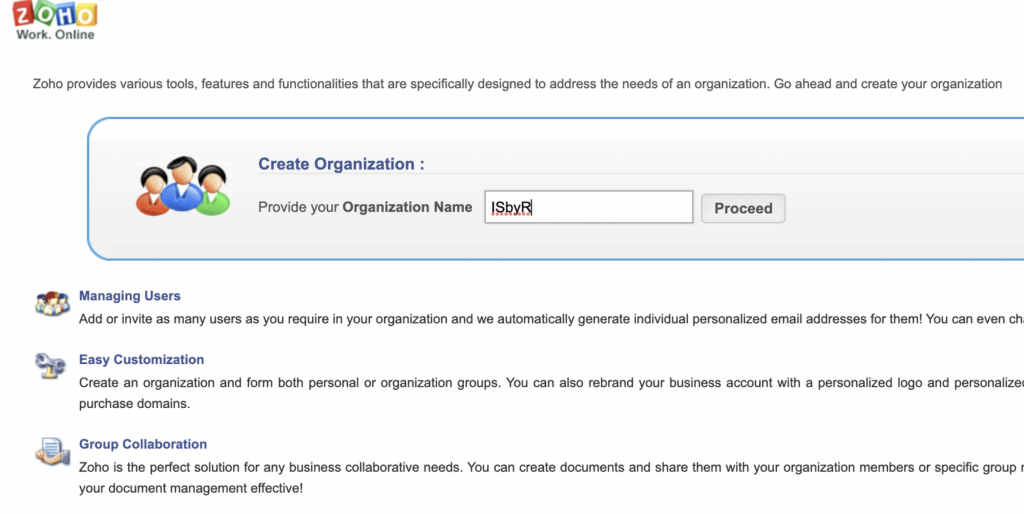 Add a new Domain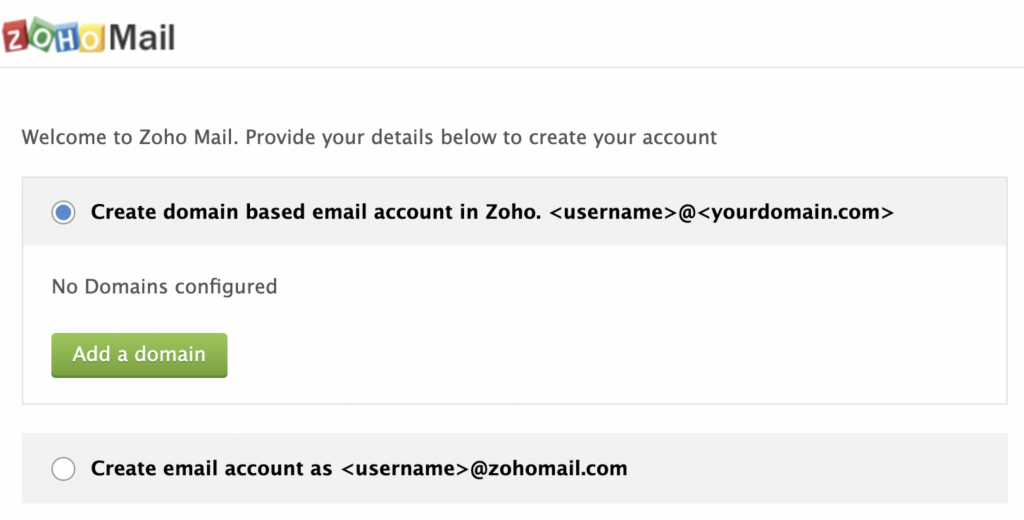 Enter your domain name

Now to the "fun" part!
In order for Zoho to be able to Receive and Send email using your domain you will need to set DNS records with your hosting or your DNS provider. I must say that this process was very well guided an it has links to detailed guides based if you are with one of the major hosting/DNS providers. The screenshots in the next steps are from Google Cloud Platform (GCP) since I use it as my DNS provider.
Setting TXT DNS record to prove ownership of your domain
In GCP navigate to Networking > Network services > Cloud DNS and select your domain
Click ADD RECORD SET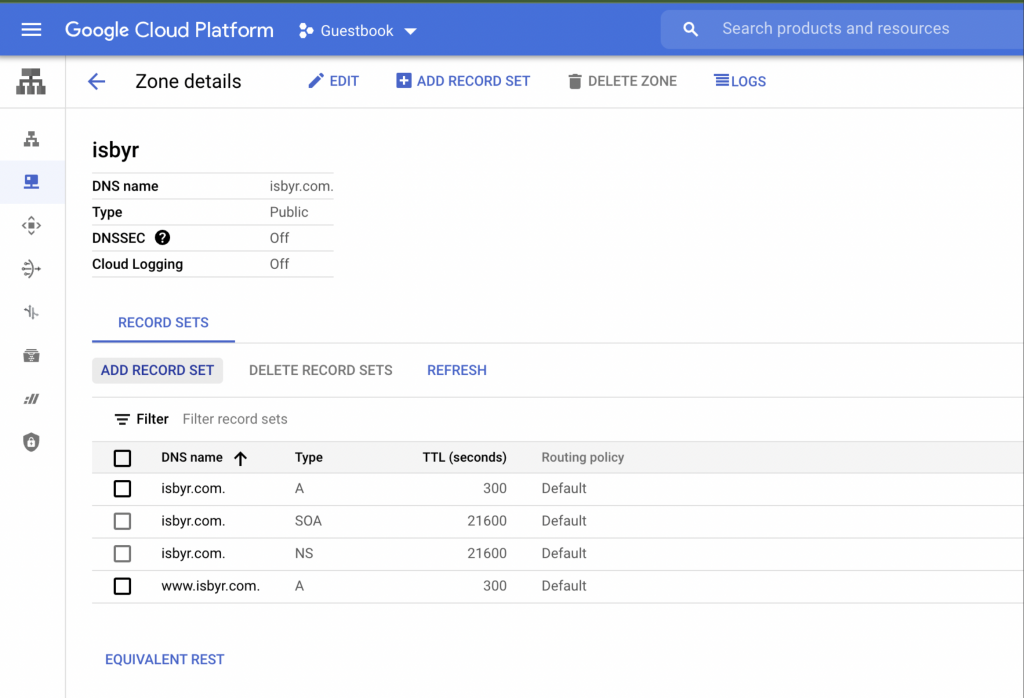 Create the TXT record using TXT data copied from Zoho Mail.
Leave TXT name blank (I was trying it with @ but it didn't work for me)
Set TTL for 3600 seconds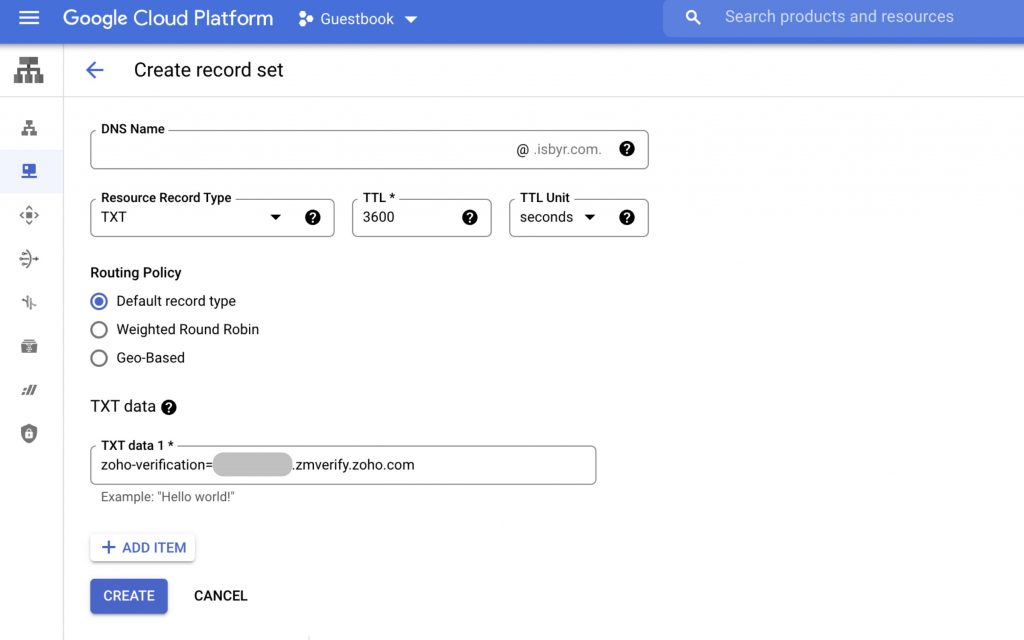 If everything was done correctly, when you click Verify TXT Record in Zoho mail wizard you will be able to proceed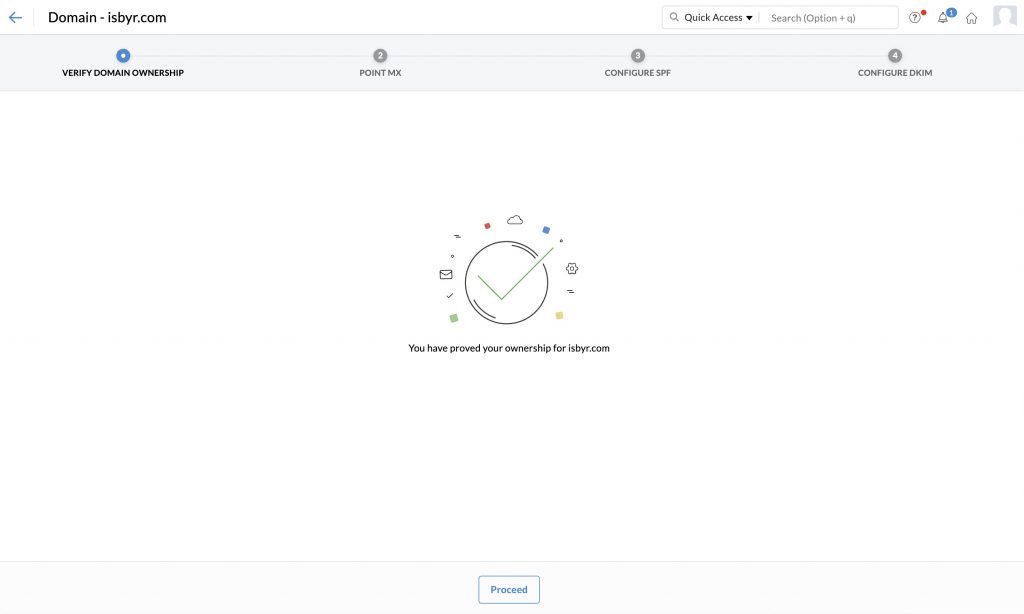 Set the remaining required DNS records
Next setup MX Records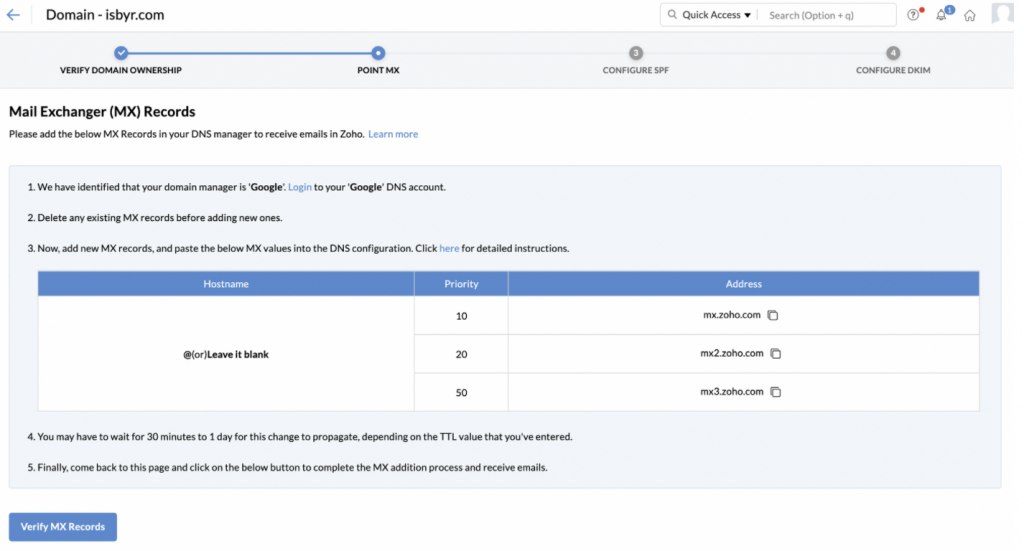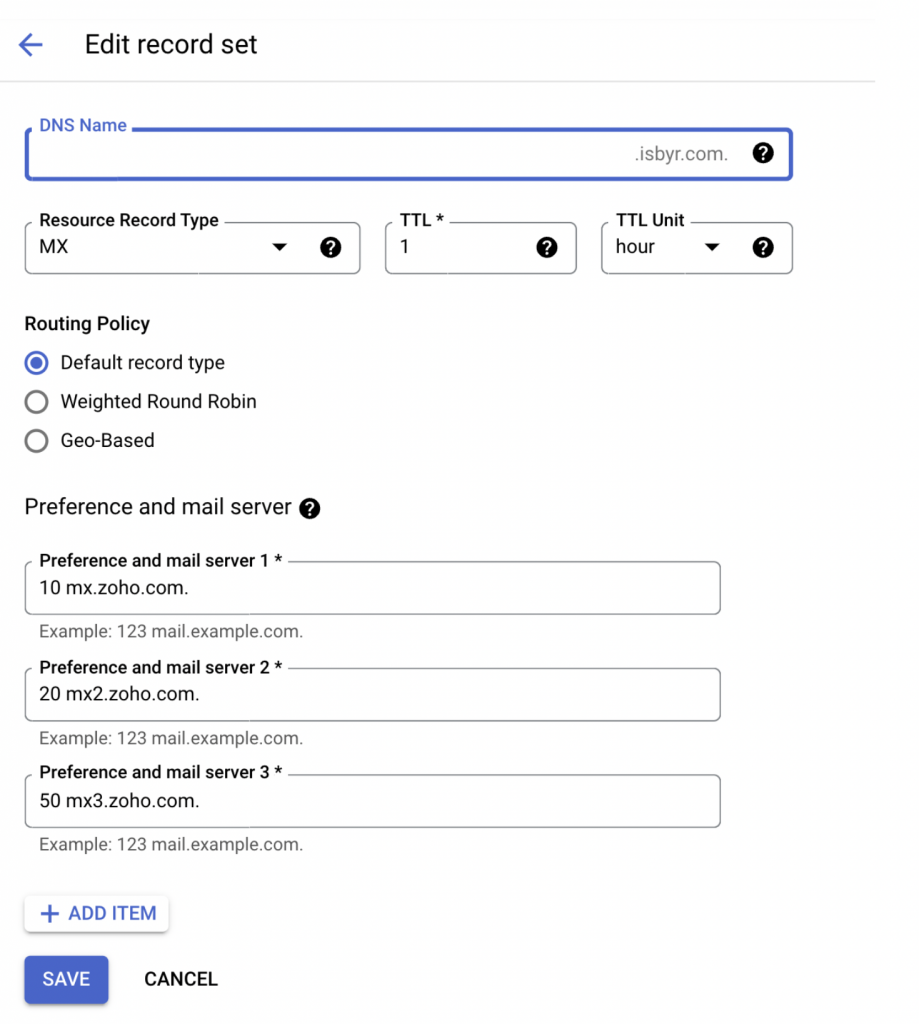 SPF record and another TXT record for DKIM.
Now you are it's time to configure users and start sending emails!!
Configure Users and Aliases
In Zoho Mail Admin Console navigate to Users and click CREATE MAIL ACCOUNT for your user.
While you are there (or later) you can also setup Aliases for your User under Mail Settings > Email Alias

Sending and Receiving emails with your domain for free with Zoho Mail
Now you can send emails using any of the defined aliases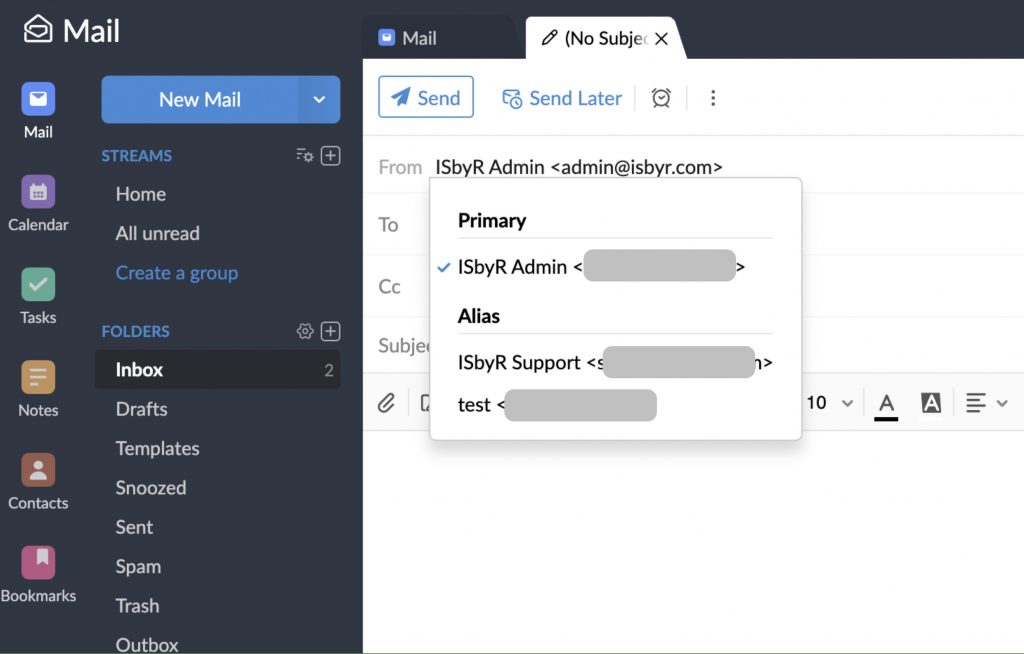 We may earn a referral fee for some of the services we recommend on this post/website.